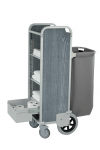 Housekeeping trolley – extra small
€1.222,00
De kleinste housekeeping trolley op de markt met slechts een lengte van 55 cm. Door de kleine footprint van deze kar kan het makkelijk in liften gebruikt worden, net zoals kleine kamers en doorgangen. De trolley heeft twee grote wielen (Ø 305mm) en stevige handvaten, waardoor je de trolley kan achter kan trekken om kleine obstakels te overlopen of de trap te gebruiken. De trolley wordt geleverd inclusief linnenzak (127L) en -houder, 4 planken (waarvan 2 in hoogte verstelbaar), lade, 4 bumpers en 4 wielen (Ø150 en 305 mm).
Specificaties:
HPL panelen verkrijgbaar in: wenge, slate, cacao of whitened
Gewicht: 37 kg
Afmetingen: 55(l) x 43(b) x 143,3(h) cm
Description
The smallest room attendant cart on the market: less than 54 cm long and wide. This reduced suze allows using small lifts and entering tiny cupboards. Its big rear wheels (Ø 305mm) and grab handles will enable you to swing it backwards so as to cross smaal obstacles or go down some stairs. The trolley is equipped including linen bag holder, linen bag burgundy (127L), 4 shelves (whereof 2 in height adjustable), drawer, 4 bumpers and 4 wheels (Ø150 en 300 mm).
Specifications:
HPL panels available in: wenge, slate or cacao.
Weight: 37 kg
Dimensions: 54(l) x 43(w) x 143,3(h) cm