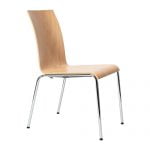 Comfortable chair with/without armrests
€140,00
Comfortabele stoel die gebruikt kan worden voor meerdere doeleinden, maar ontworpen is voor seminar- en conferentieruimten. De stoel wordt in Zwitserland geproduceerd en wordt geleverd met chroom onderstel en kunststof glijnagels. De rug en zitting is van beukenhout, gebeitst in diverse kleuren. Daarnaast is het mogelijk om de stoel te laten stofferen. Ook hiervoor zijn er veel mogelijkheden met betrekking tot de stof. Voor deze stoel zijn er diverse opties beschikbaar, zoals verbindingsstukken, stoelnummering en transportwagens.
Indien u deze stoel besteld, wordt er contact met u opgenomen betreft de afwerking van de zitting.
Description
Comfortable chair that is for multipurpose use, but especially designed for seminars and conferences. The chair is produced in Switzerland and will be delivered with a chrome frame and plastic gliders. The seat and back are made of beechwood and can be stained in various colours. It would also be possible to have the chair upholstered. Of course there are many possibilities for the fabric. There are various options avaiable for this chair, such as connectors, seat numbering and transport carts.
When ordering this chair, we will contact you to discuss the finishing of the seat.