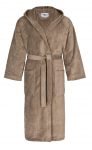 Hooded bathrobe – various colours
€32,00
Description
Very soft bath robe with velour appearance – with 100% fluffy microfiber yarn on the outside and 100% absorbing cotton yarns towards inside. The bathrobe is highly comfortable through its Raglan sleeves and excels by a velvet grip. Very efficient and energy saving in washing as it dries up 60% faster than a comparable cotton quality.
Material: 40 % cotton / 60 % polyester
Weight: approx. 320 gsm
Dyeing: double dyeing with reactive colours, good wash characteristics
Style: hooded for both, women and men
Design: with two outside pockets, belt with double loops
Finishing: well-appointed comfort with raglan sleeves
Certificates: Oekotex Standard 100 , ISO 9001:2008
This item has a packing unit of 8 pieces.